Gallery

Is it a Car or is it a Bike?
Francois Knorreck, a French motorcyclist with a passion for building things, spent more than 10 years designing and building this sidecar and bike combo. The Snaefell, a Laverda-based sidecar outfit, is a completely handcrafted vehicle! The frame, the wiring harness, and, of course, the amazing body, which itself used 63 molds for the parts which were made from polyester or carbon fiber. Francois Knorreck used parts of a Renault, Citroen Xantia, BMW, a Volkswagen Golf GTI, and Audi 80. The entire project took 10,000 hours and cost around 15,000 Euros or approximately $22,000 to build. Gorgeous Work!
You've likely seen the image of the Lambretta scooter with a sidecar built to look like a split window bus floating around on the internet. Our own Mike McDermott found the blog on which it was originally mentioned complete with a link to a better picture of it at the 2007 VolksWorld Show in England. Thanks, Mike!
From the blog: "Found this cool VW Bus Sidecar whilst browsing through images on Google the other day. I couldn't find much other information, but it looks like the scooter/sidecar combo was featured at VolksWorld 2007."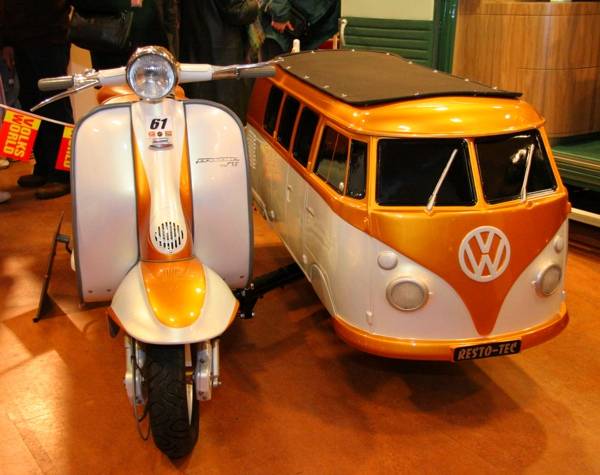 We'd like to give a very special thank you to Kimberly Adams for sharing this awesome piece of history!
In her words, "My Grandfather, Bob Allinger, operated Rival Motors of San Jose back in the 50′s and 60′s. He sold and serviced Mercedes. Everyone told him he was crazy when he added Volkswagen to the line up. These pictures are of my Mother's Karmann Ghia that she had in high school. She attended Los Gatos High and they lived in Saratoga." Click on each image to get the full picture!
Below is an original comic created by Jim Johnson who's been kind enough to allow us to share it here with you. Thanks, Jim!