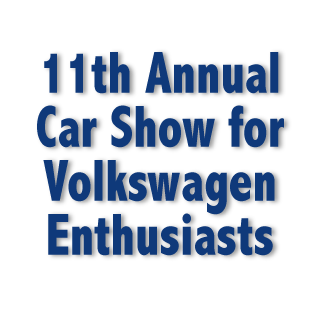 Peninsula Automotive hosted the 11th Annual Car Show on Sunday, September 11, 2011. It was such a great day for the many families and friends who joined us for the fun and excitement. Participants enjoyed a record number of beautiful Volkswagens showing for 1st and 2nd place, Peoples' Choice, and Best of Show awards. VW enthusiasts wandered the swap area and Valve Cover Racers competed for 1st and 2nd place awards in two different age groups, while others enjoyed the annual store discounts going-on inside the showroom.
Hope you enjoy the gallery of images below.
A record-setting 76 cars participated in the car show this year. Below are this year's show results. Click on each winner to see a picture of his or her car. We want to thank everyone who came out, participated, and made this the best Car Show yet!

Many thanks to all the people and companies who contributed towards making the 11th Annual Car Show a huge success! Your generosity supports the raffle and giveaways enjoyed by VW enthusiasts throughout the day!
ADELITA'S TAQUERIA
CB PERFORMANCE
IMC
TOUCH OF CLASS

BAY AREA COMPUTERMAN
DICK'S TOWING
PACIFIC PARTS INTERNATIONAL
TWO PALS PUBLISHING

BECK'S SHOES
DONA MARIA MEXICAN RESTAURANT
PIERCED-OUT BODY PIERCING
WEST COAST METRIC

BLUE SKY RESTAURANT
EMPI
SO CAL IMPORTS
WOLFSBURG WEST

BUG PACK
GO WESTY
TMI PRODUCTS
We wish to extend a special thanks to the group of volunteers who help to bring the fun and enjoyment of the Car Show show to other Volkswagen enthusiasts. Once again, your efforts made the 11th Annual Car Show the BEST show ever!
Ashley Bruntz
Eric Morgan
JR Dworaczyk
Melissa Munoz
Rob Schmidt
Sharon Williams

Dan Wiggins
Jason Bellomi
Kim McNamera
Mike Long
Rogan Lynch
Taylor Nelson

Dave Williams
Jessica Montgomery
Kristin Lofstrom
Mike McDermott
Scott Augsburger

Dick's Towing
Jose Padilla
Marisol Padilla
Mister Blue
Sara Williams

Doug Drysdale
Josh Corwin
Marty Munoz
Noah Rivera
Rolf Soltau
A huge thank you to Jim Kikuchi for doing such a great job of capturing our ENGINE BLOW and posting it for all to enjoy!