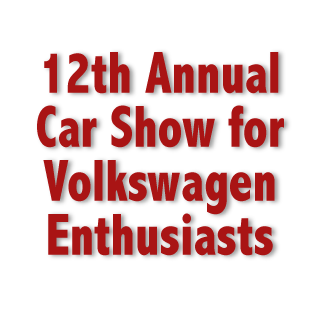 Peninsula Automotive hosted the 12th Annual Car Show and Swap Meet and Storewide Sale on Sunday, September 9, 2012. A great day for all the friends and families who joined us for a day of fun and enjoyment. Over 60 beautiful Volkswagens competing for 1st and 2nd Place, Peoples' Choice, and Best of Show awards were enjoyed by all of us. The day included a couple of new activities-a scavenger hunt for the adventurous and a coloring contest for the young at heart. Stop by the store to take a look at their works of art.The days event would not be complete without the ever-popular ENGINE BLOW! This year the engine ran for about four minutes before blowing up. Please enjoy the gallery of pictures below and we hope to see you next year at the 13th Annual Car Show.

Many thanks to all the people and companies who contributed towards making the 12th Annual Car Show a huge success! Your generosity supports the raffle and giveaways enjoyed by VW enthusiasts throughout the day!
IAPWest Inc
IMC Corporation

Koch's Restoration
Peninsula Automotive

Pierced Out Professional
Body Piercing Studio
Retro Sound USA
Stevens Creek Volkswagen

Sunnyvale Volkswagen
West Coast Metric
Wolfsberg West
We wish to extend a special thanks to the group of volunteers who help to bring the fun and enjoyment of the Annual Car Show to other Volkswagen enthusiasts. Once again, your efforts made the 12th Annual Car Show a HUGE SUCCESS!
Ashley Bruntz
Brendan Moran
Dave Williams
Dicks Towing
Greg Potwin

Jason Bellomi
Jeff Biby
Jessica Bruntz
Jose Padilla
Josh Corwin

JR Dworaczyk
Kim McNamara
Kristin Lofstrom
Mike Long
Mike McDermott

Mister Blue
Rogan Lynch
Rolf Soltau
Sara Williams
Sharon Williams
A special thanks to Jim Kikuchi for capturing our ENGINE BLOW and posting it for all to enjoy!